Innovation for Leadership Conference
---
Date and time
Friday 7. September 2018 at 08:30 to 16:00
Registration Deadline
Thursday 6. September 2018 at 21:00
Location
Scandic Sydhavnen, Sydhavnens Plads 15, 2450 København SV Scandic Sydhavnen
Sydhavnens Plads 15
2450 København SV
Innovation for Leadership Conference
---
Event Description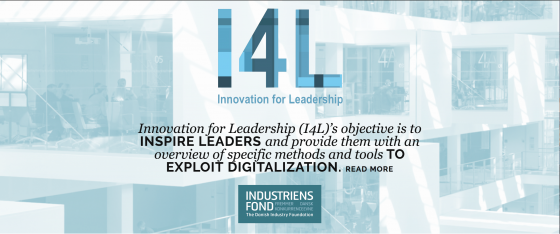 Participate in the
Innovation For Leadership (I4L) conference.
When:
Friday September 7th
Where:
Scandic Sydhavnen
, Sydhavnens plads 15, 2450 Kbh. SV.
Duration: 08:30-17:00
Supported by
the Danish Industry Foundation (Industriens Fond), the IT University-based project invites leaders to participate in the
I4L
conference,
with
intriguing talks on topics such as digital leadership, communication, innovation and
various forms of interaction
.
The day will be a great opportunity for insights on the trends and challenges within today's leadership, with enough time to discuss and to network.


Agenda

8.30-9.00 Welcome & breakfast
9.00-9.30 Intro to the conference
Jens-Christian Godskesen, Prorektor IT-University, Ole Østrup, Industry Foundation, Alexander Richter, Associate Professor IT-University & Lene Nielsen, Associate Professor IT-University
9.30-10.25 "Leading change in the Tech storm"
Camilla Gad Krogsgaard, Managing director, ALSO Denmark
10.25-11.00 "I4L – The project and its results"
Hanne Westh Nicolajsen, Associate Professor IT-University & Raluca Stana, Ph.D. student IT-University
11.00-11.20 Coffee break
11.20-12.05 "The human side of digital collaboration"
Raul Cordero, Director of Global Service Delivery Management, Pandora
12.05-12.50 "Empowering global employees – How to grow your business with Social Collaboration"
Sandra Patricia Røntved Jensen, Carlsberg Global Business Services
12.50-13.45 Lunch break
13.45-14.30 "How Emotion AI drives Innovation - a new era of how humans live together with machines"
Marco Maier, Head of Artificial Intelligence, HYVE & Managing director, Tawny
14.30-15.15 "Planning, Communicating, & Measuring Digital Campaigns"
Jennifer Dooley, Social Change Expert
15.15-15.35 Coffee break
15.35-16.30 "Data-driven leadership – The big fight between intuition and facts"
Oliver Müller, Associate Professor IT-University
16.30-17.00 Wrap up & Farewell
Should you have any questions, do not hesistate to ask and we will gladly answer these.
Organizer Contact Information
Innovation For Leadership
Phone: +45 41 62 62 54
musa@itu.dk
Organizer Contact Information
Innovation For Leadership
Phone: +45 41 62 62 54
musa@itu.dk